Nestled among lush native gardens with a stunning backdrop, our Cellar Door is the perfect place to taste our range of premium Heathcote wines. From seated wine flights to casual tastings by the barrel, our experienced staff will guide you through an educational tasting, explaining the diversity of the Heathcote region. We also offer advice on cellaring, food and wine pairing and take great pleasure in helping you plan your trip around our region. After your tasting, why not relax on the verandah with a glass of wine and a local produce platter.
$10 per person
Sit down structured tasting, bookings required
Sit back and relax as your wine host guides you through a tasting experience showcasing the diversity of the Heathcote Wine Region. Experience a flight of 8 wines being from traditional French varieties and new emerging alternate varieties, with a small plate of food accompaniments. From 10am to 4pm Friday, Saturday and Sunday. Please allow around 45 minutes for the tasting experience. Bookings required.
No charge
at the counter or a barrel
Let one of our team take you through a stand-up tasting of up to 5 wines. A great introduction to wines from Heathcote.
Experience an educational tasting showing wines from the northern and southern areas of the Heathcote Wine Region. Our range includes (depending on availability) Sparkling Chardonnay Pinot Noir, Riesling, Vermentino, Albarino, Pinot Gris, Viognier, Chardonnay, Rose (dry), Sangiovese, Nebbiolo, Tempranillo, Cabernet Sauvignon, Shiraz, Sparkling Shiraz and Dulcis (a sweet Viognier).
Wine tastings available Friday 10am – 4pm. Saturday and Sunday 10am – 5pm.
As we are a small Cellar Door bus groups and groups over 8 need to book.
Please call our team on 5433 5188 to arrange group options.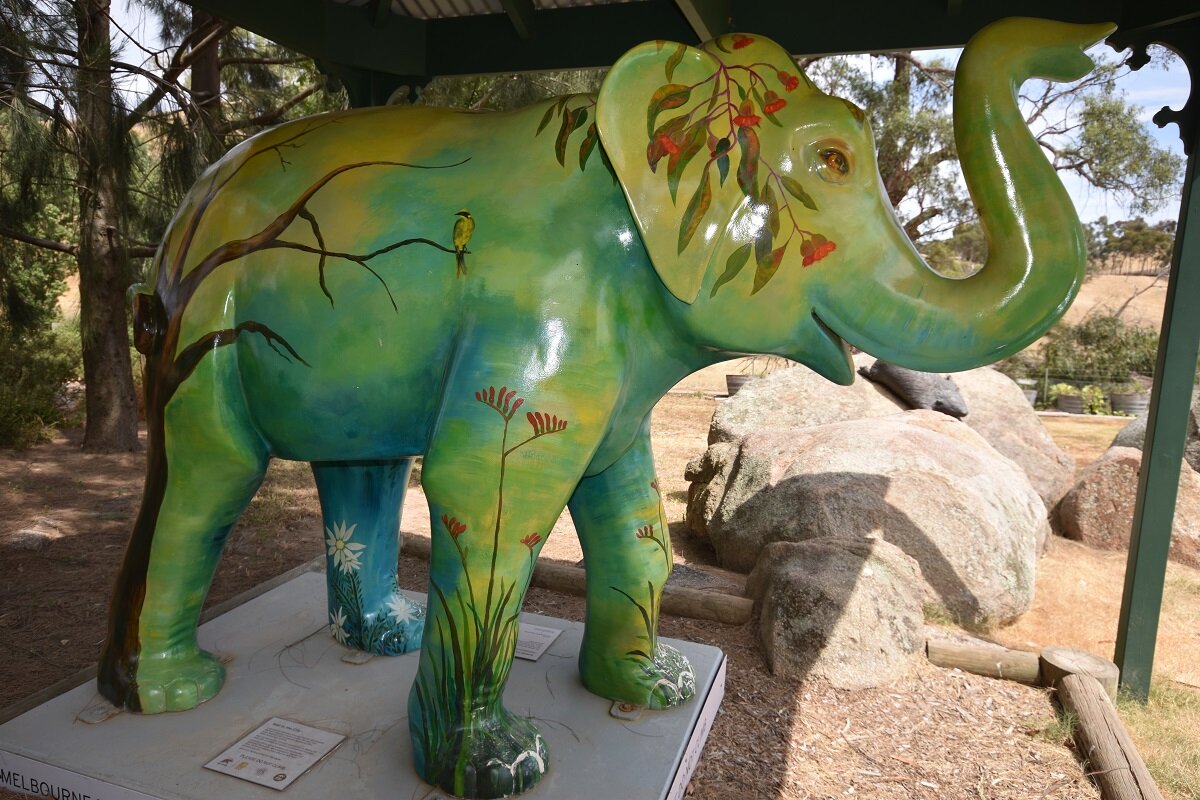 In 2012, to Celebrate Melbourne Zoo's 150th year, 50 life-sized baby Mali elephants, painted by some of Australia's top artists, were put on display around the city of Melbourne. All 50 elephants were then auctioned off at Melbourne Zoo on October 25th to raise funds for wildlife conservation.
Our proprietor was unable to make it to the auction but sent a relative to put in a bid. Unfortunately, 41 of the Mali elephants had already sold and, with bids coming in fast, it seemed unlikely that her submission would be successful. Just when it seemed all hope was lost, she got the phone call she had been waiting for; her bid was victorious!
Not only did Merindoc Vintners acquire one of the immensely popular sculptures, but the Mali they had won was designed by Andrea Carydias, who had chosen this opportunity to raise the profile of the endangered Helmeted Honeyeater; the very same bird that decorates our Merindoc wine labels.
Mali, who was fated to us, now sits in the Merindoc gardens, overlooking our orchard and vegetable garden beds.